Delhi is the capital of India and it is famous for so many things. From the historical monuments built by Mughal Emperors to the current political headquarters of India, Delhi is famous for its extreme nature of weather and climate. One of such thing you can feel in the hotness of summer in Delhi. The temperature is just too much to bear in day time as it reaches sometimes 48 to 49 degree Celsius.
If you have not been to Delhi in summer then you can ask someone who lives there or travelled to Delhi during summer. Only they can tell you how the flaming wind feels to the body when they get out in the sun. In case if you have a job inside the office in Delhi then you can relax a bit by using fan or air-conditions. Otherwise, if you have a field job and you don't have a vehicle with AC, then no one could express the hot condition better than you.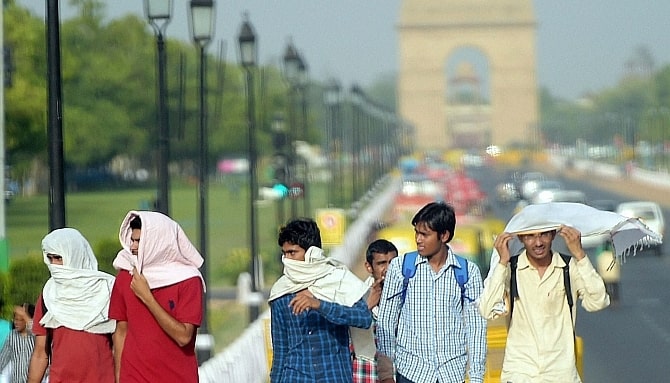 The heat of summer in Delhi has a tendency to break your body and make it weak. So the summer also comes with a challenge for you to keep your body fit and healthy. One of such things we are going to recommend you if you want to keep your body immune in summer of Delhi is – "Indulge yourself in regular body massage".
Now, the summer season has set in in Delhi and in the midst of the hot and humid winds blowing in the summer months, the best thing to do would be to get a full body relaxing massage service. Yes, when you are taking the doorstep body massage service in Delhi in the summers, it will be giving you the ultimate satisfaction and refreshment like never before. So, make sure that you have the perfect massage package to unwind and rejuvenate yourself for the comprehensive blissful experience.
Top 4 Benefits of getting a Doorstep Body Massage in Delhi in Summers
Your own "Me Time"
Yes, you are absolutely right! You may be wondering what did I say to be right. Well, you were thinking about the word "Me Time." Most of the folks, whether institutionalized under marriage, single, or in a relationship, they fail to convince themselves that "Me Time" matters. Yes, indeed, it does! Taking out time from taking your kids to school, arranging for their summer camps and hiking and even taking the family to the outing, in all of these, had you ever found your own personal interest given due consideration. Well, indeed, you didn't. So, having the massage in the summers will be giving you that perfect pleasure and satisfaction like never before.
Muscle Tear and Repair
Those who are engaged in intense exercise and sports, for such folks, it is a do that rigorous muscle wear and tear will happen quite often. Thus, when you are enjoying the beautiful summer days and taking the male to male body massage in Delhi, it will help your body to relax and repair itself. As a result, you tend to gain a lot of benefits in the process. Thus, allowing you to enjoy the summers days and resort to best type of exercising and body refreshment.
Repairs Swelling In Joints and Limbs
As the mercury soars in the summer, it will lead to a lot of discomfort and dissatisfaction. The discomfort and displeasure is because of the accumulation of lactic acid and other specific substances that will lead to considerable stress. When you are having that perfect massage
Clearing the Clutters
Yes, you heard that right! You might feel at times that your mind has been cluttered with rigorous thoughts of tension and torture. So, when you are planning to clear your mind of the negative thoughts that come like plundering pirates of sin and ecstasy, a good body massage in Delhi will be your ultimate refuge. So, keep that in the head and do things that will help you in a big way.
Building the immune body immune system
To fight against the odds, the immune system of our body should be strong enough to fight with the sun stroke effects. Like – vomiting, dehydration, skin rashes, etc. Body massage makes our immune system strong which keep us safe from the hot winds.
Remove the tension of going to a spa
This is the main benefit of getting a doorstep massage service. The massage therapist will come at your home or hotel, you don't have to travel in the hot weather to go to a spa. You can just enjoy the massage at your home in the suitable temperature enjoying your favourite health drinks.
Well, the above all was about importance of body massage in Delhi summers, then are also other things that you can do to protect yourself from the hotness effects. Like:
In summer, water from our body comers out more in form of sweat which could lead to dehydration. So, drink plenty of water at regular intervals. It keeps your body hydrated and balances the water level in the body.
Try to eat less and drink more. Eating too much during summers could lead to vomiting which is also not recommended by doctors. Instead of eating, you can drink fruit juices, lemon water, lassi, buttermilk, etc. If you can resist eating, then prefer eating fruits like water melon, oranges, raspberries & strawberries, apples, pears, etc. And yes, the mangoes, how can we forget it.
Wear light coloured and loose fitting cotton or linen clothes, as it allow wind to properly go inside through the clothes and helps the sweat to evaporate. It provides ample amount of air need to your body.
Try to get out of home with an umbrella, if not umbrella then at least wear a cap or hat. It can protect your body from direct heat from the sun and you can always be in a shadow.
Take a bath at least once. After returning from outside, wash your face, hands & legs. Splash some water on your eyes too as the eyes also get tired of the heat. You can also put cucumber slices on your closed eyes for few minutes, or you can keep cotton dabbed with rose water on the closed eyes. This will provide some relaxation to your eyes.
And the last, not for us, but for other lives around us. Keep some water outside your home or in terrace in a pot or big bowl. This will help the birds and animals to quench their thirst in the intense heat of Delhi Summers.
Our Recommendation
If you are living in Delhi or planning to visit the capital during the summer, then you can book our doorstep male to male body massage service in Delhi at your home or hotel. Being healthy should be your utmost priority. You can enjoy a variety of massage services at your home like stone massage, oil massage, honey massage and many more. Just give us a call at +91 9999873727 and we will be at your service.
https://www.royalmalemassage.com/wp-content/uploads/2019/04/Beat-The-Heat-Of-Summer-With-Doorstep-Massage-Service-in-Delhi.jpg
600
1500
Mihir
https://www.royalmalemassage.com/wp-content/uploads/2018/07/Royal-Male-Massage-Logo-300x140.png
Mihir
2019-04-02 05:40:39
2019-05-10 05:56:51
Beat The Heat Of Summer With Doorstep Massage Services In Delhi