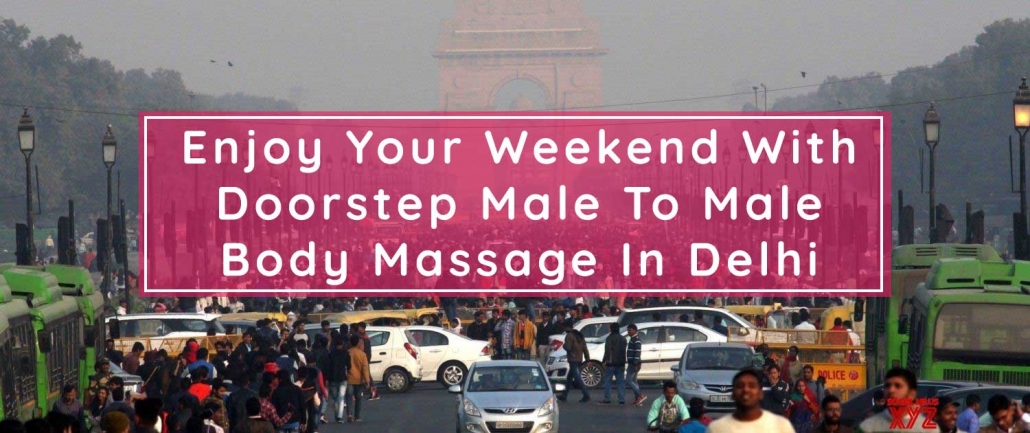 Delhi, the capital of India, is led by the people working there. They work day and night to manage their life as well as the country's progress. Some people do 8 to 12 hours daily shifts; some have their own business while some of them are freelancers. The common thing that binds them in one thought is the contribution they are making for the society. The day and night working makes them tired and exhausted. That's why Royal Male Massage is here with its male to male body massage service in Delhi to help them get rid of all the tiredness.
We all know that after continuous working our body and mind can break down. Body pain and muscle strain is the most common problems these days. Sometimes, if the work involves a lot of physical activity then it also creates deep pain. People also have to travel a lot for hours to reach their destination. The crowd and rush in Delhi metros and buses, the slow moving vehicles and getting stuck in traffic, these things are alone enough to make people tired. To cope up with this, People go to gym and take proper nutrients, still they are not feeling the kind of relaxation that they need in their body. For such situations, nothing could be best regarded as indulging themselves for a body massage session. Going to gym could only make you fit but getting a massage can relax both your mind and body.
Royal Male Massage is an easily recognizable name in Delhi when it comes to provide the best doorstep male to male body massage in Delhi. We provide our service in all areas across Delhi no matter which corner of Delhi you live in. Not just in homes, we provide our massage service in hotels, guest house and farmhouses of Delhi too. So if you are in Delhi and wish to relax this weekend, try our male to male body massage service. Trust us, you are going to avail it again and again.
Reasons to avail our doorstep massage service in Delhi
We are affordable
Most of those who are working in Delhi are office going people. Not everyone is earning great. Some of them are earning sufficient whereas some are in their struggling days. Our service is for all of them. Our main motto to is make our service reachable and easily available for all without making money a burden on anyone's pocket.
Customized packages
According to the lifestyle in Delhi, we have introduced several customized packages for massage therapies. These packages make it easy to choose what a customer needs. We don't force or make it compulsory to avail massage services according to us. Rather we let our customers to decide for what they want.
We are punctual
Since we provide male to male body massage at customer's doorstep, it's our responsibility to reach at customer's location in the schedule. We don't make our customers wait for the massage therapist. In such a big city, time play's a major role in someone's life. Time is equally important as money. People in cities like Delhi know the importance of utilizing time efficiently. We respect such thinking and that's why our massage therapists reach on, or bit before, the scheduled massage time at our customer's location.
Read Also – 6 Benefits Of Getting Massage At Home
Experienced massage therapists
Our customers pay us fairly for the doorstep massage service they get. They expect a nice result from the massage service as they are spending their hard-earned money for it. And that's why we keep only experienced massage therapists at Royal Male Massage. Our therapists know each and every part of the body. They know how to handle a body with care and apply correct amount of pressure at points.
Variety of massage services
Delhi is a city with a dynamic lifestyle. We can't afford to lag behind and shutdown our service. We offer various kinds of massage services to please our customers and offer them a fresh feeling along with relaxation. Our massage services includes
Hot Oil Massage
Hot Stone Massage
Honey Massage Therapy
Powder massage
Full body relaxing massage
Body to body massage
Option to choose your therapist
This is the most asked thing by our customers. They want to know who will come for the massage session as the therapist. Most of our customers want to have certain characteristics in the therapist like looks, body shape, and physical strength. It's all about their preferences. We provide the massage therapist that they want. They can preselect their massage therapist before booking for an appointment.
We respect the privacy
In doorstep massage service, there are so many things that customers share with us. Like their mobile numbers, home address, email ids, etc. It's our policy to not to share these information with anyone. All these details are kept in private. In case, if our customers meet our therapist randomly in public, who has provided them a massage previously, our therapist will not try to get in touch with them unless they do the move.
Read Also – Doorstep Massage Services For Tourists And Travellers In Delhi
What are you waiting for, book your doorstep male to male body massage in Delhi Now.
Royal Male Massage is also dedicated to contribute to the society as other people do. We want to lessen the burden of this generation by providing them relaxation with our doorstep massage services. If you are in Delhi or planning to be in Delhi for some time in near future, then pick up your phone and call on +91 9999873727. In case if you don't prefer to call us then you can also leave a WhatsApp message on +91 9953066990. Make your weekend memorable and relaxed with our male to male body massage service in Delhi.
https://www.royalmalemassage.com/wp-content/uploads/2019/04/Enjoy-Your-Weekend-With-Doorstep-Body-To-Body-massage-In-Delhi.jpg
630
1500
Mihir
https://www.royalmalemassage.com/wp-content/uploads/2018/07/Royal-Male-Massage-Logo-300x140.png
Mihir
2019-04-12 07:08:05
2019-05-10 06:01:50
Enjoy Your Weekend With Doorstep Male To Male Body Massage In Delhi