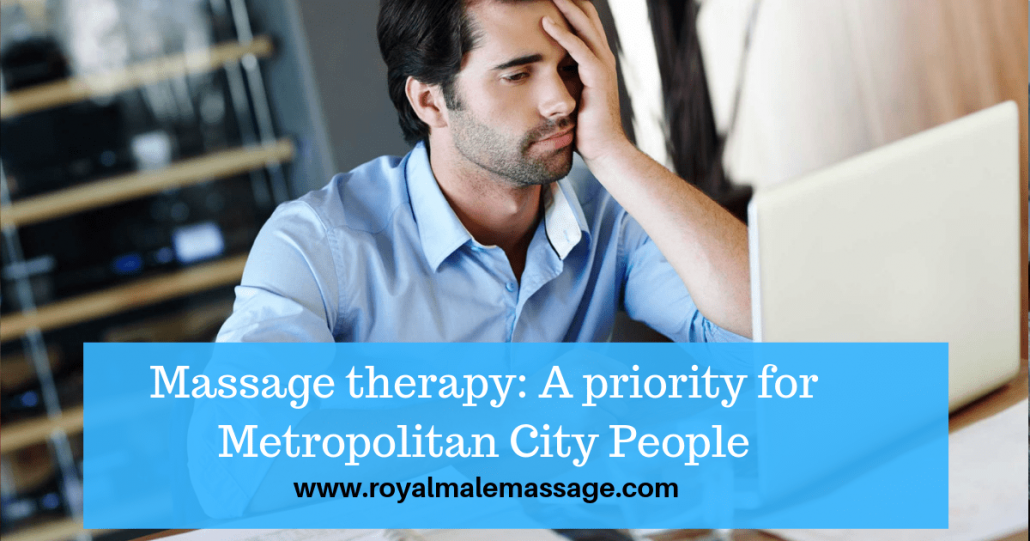 According to a WHO survey in 2016, 54% (approx 60 million) of the deaths are unnatural. Out of which, most of the deaths were caused by diseases and bad health conditions. Majority of these people were living in metropolitan cities.
If people want, they can reduce the probability of getting their names in the death list. All they need to do is to take care of their health like they take measures to protect their money and use wisely.
One of the best ways, especially for the metropolitan city people, to take care of health is massage therapy. Massage therapy helps in eliminating many body problems and weakness which may get worse if not taken care of. Massage therapy is a natural technique and it is used since ancient time. A lot of people are getting the benefit of massage therapy to live a happy life. Giving priority to massage therapy means giving priority to your health.
Reasons for health degradation in Metropolitan cities
1. The no-care attitude for health
People can't feel the agony of love until it happens with them. The same way, few people don't understand the importance of taking care of their health until they start suffering.
Such people can't resist the taste and smell of street foods and junk foods. Like the momos and noodles in Delhi, and Vada Pav in Mumbai dominates the people mind, tongue and stomach.
People just surrender themselves without thinking once for their health. These foods show their after effects in few years, which can lead to serious disease and body malfunction.
There are many other unique habits by which people of big cities degrade their health. They don't take their meals on time, don't do any kind of physical activities like exercise. Putting an add-on to this, they enjoy the night by watching movies and web series, playing games, going to pubs, drinking and smoking. They just ignore the importance of sleep for a healthy life.
There are many other unique habits by which people of big cities degrade their health. They don't take their meals on time, don't do any kind of physical activities like exercise. Putting an add-on to this, they enjoy the night by watching movies and web series, playing games, going to pubs, drinking and smoking. They just ignore the importance of sleep for a healthy life.
2. No time for self-love
Now, mostly in metro cities, because of the competitive work culture, a person rarely gets time for self. That's not a habit but a need. The house rent, kids education, home expenses, insurances, future savings, investments, there are numerous reasons to work endlessly.
In this hustle and bustle of life, one has to miss many things like family gatherings, meeting with friends, etc. These things have a positive impact on a person's life making them emotionally strong and happy.
If a person lives a life of only working, there is a huge chance of getting depression, anxiety, abnormal blood pressure and heart problems.
3. Impure air and water
In metro cities like Delhi, Mumbai and Bangalore, people could be easily seen wearing a breathing or face mask while in traffic. It is because they feel suffocation while inhaling the impure air in the traffic.
When it comes to water, you cannot drink tap water or hand pump water directly. You will feel like vomiting. For drinking, you have to buy purified water or use a purifier at home or office.
The situation was not the same decades ago. The uncountable vehicles on roads, factories polluting land, water and air, and the wastes unable to decompose from many years, are the reason behind impure air and water. Lack of information and poor management of natural resources, could make the situation worse in future.
In a long run, such air and water leads to deadly diseases like malaria, typhoid, cancer and organ failure.

4. Use of synthetic input in foods
To maintain demand and supply equilibrium, the use of chemicals and synthetics has been increased in foods. The demand of food will be always there, so to produce maximum fruits and vegetables the use of chemicals has been increased.
You can get the vegetables that you want in the market, but that will be full of chemicals, hazardous for your health. Everything in metro city market is impure, from oils to milk, fruits to vegetables, everything. You have to eat these because it is better to eat these than to die of hunger at that time.
Increased probability of health risks in metros
Compared to the time decades ago, the probability of health risks has been increased drastically, so as the death rate. Also when you compare the lifestyle of a metro city to a village or a small city, you will find that village people are healthier and less prone to diseases.
The simple reason behind this is the fresh air and water, fresh food (without chemicals), more physical activities, and more time for themselves and family. In order to be healthy, people of metropolitan cities like Delhi, Mumbai, Pune and Bangalore will have to be very cautious. They need to get involve in more physical activities, eat a healthy diet. They need to go for a massage therapy.
Why Massage Therapy
Massage therapy is always good for physical and mental health improvement. Specially, it becomes a priority if you are living in a metro city, where you rarely get time for physical activities. If you are suffering from body pain, muscular tension, insomnia, fibromyalgia, stress & depression, laziness, headaches, etc. Then, massage therapy can help in long run. Massage therapy can decrease the health risk probability to a great level. In metros, where you want to stay healthy, but unable dedicate time for it, massage therapy could become a rescuer for you.
Massage will help to bring the feeling of the satisfaction of ultimate relaxation and refreshment. Massage is not just for relaxation and refreshment, it will help you with longer benefits like managing your emotional side in a better way. Massage therapy will help you to improve your fitness level and mental awareness. It abolishes the symptoms of many types of illness. You can enjoy a whole day working happily and a night with sound sleep. You will be active always and live a blissful life, enjoying every bit of it.
Is massage therapy the only way?
No. The assumption that massage is the only way to stay healthy in metro cities is wrong. There are many other ways too. But, the role of a massage therapy outshines all the other options. If you want to stay super healthy in metropolitan cities, stick to these undeniable and important rules.
Never skip your meals. Stomach is the root of all disease. If you keep your stomach unhappy, it will take the revenge in its own way. Eat a quarter of your portion at least. It will keep you energetic while working.
Do a minimum of 30 minutes exercise for body and 20 minutes of meditation for your mind daily. This will protect you from laziness, uneasiness and anxiety.
Take a timely and proper sleep. It is very much needed in order to rest your body. You can also take a nap whenever possible. Don't avoid the sleep.
Eat healthy and give your body some good nutrients. Junk foods will only work as a slow poison for your body, decaying it from inside, making you weak in early age.
Avoid smoking and alcohol. The habit of smoking and consuming alcohol is the main reason for health degradation in metro cities. This could damage your lungs and organs, can lead to cancer.
Get time for family and friends. It has a great power to heal your mind from emotional stress. The positive vibes starts surrounding you, making you happier. Happiness is the best antidote to many deadly diseases.
If you follow the above mentioned rules, along with indulging in massage therapy weekly or monthly, trust me, you can live a healthier life in metro cities too.
Get Massage in Top Metropolitan Cities of India
We, Royal Male Massage, are providing male to male body massage service in Delhi, Mumbai, Pune, Bangalore, Noida, Gurgaon & Ahmedabad. We are well aware of the habits and lifestyle of the people living in these metropolitan cities of India. So, we provide different type of body massages to make the life easy of people in these cities. Like hot oil massage, hot stone massage, powder massage therapy, honey massage therapy, body to body massage and full body massage. So if you are living in the above mentioned cities and need a relaxing massage therapy at your home or hotel, the reach us now at – 9999873727.
https://www.royalmalemassage.com/wp-content/uploads/2019/06/Massage-therapy-A-priority-for-Metropolitan-City-People.png
630
1200
Mihir
https://www.royalmalemassage.com/wp-content/uploads/2018/07/Royal-Male-Massage-Logo-300x140.png
Mihir
2019-06-17 06:50:46
2019-09-21 09:47:43
Massage Therapy: A Priority For Metropolitan City People